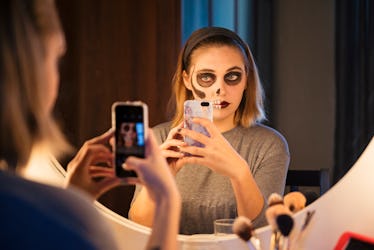 Try These Virtual Scavenger Hunt Ideas On Halloween To Creep Things Fun
martinedoucet/E+/Getty Images
It would be pretty spooky if you didn't celebrate Halloween with friends, so this year, you're hosting a virtual party. The plan is that on October 31 everyone will get dressed up in a costume and log onto a Zoom meeting. Together, you'll watch Hocus Pocus, paint pumpkins, or bake cookies while chilling in your homes. If you need more itinerary items, consider one of these Halloween virtual scavenger hunt ideas that'll creep things fun.
You don't want any awkward silences during your get-together, after all, or to miss out on any moments that could be festive. These ideas can all get the job done, even if your friends are located in different cities or on different couches. They simply require everyone to follow a couple easy rules. First, everyone should be able to access their camera roll whether that be on their phone or laptop. Second, everyone must send a "boo" in the video's chat after returning so you can determine who has won each round.
The rounds will go a little like this: One person will pick a category from those listed below. They will call out what it is and everyone will have to either run around their space or dig through their photos to "hunt" for a proper item. Whoever sends that "boo" first and brings back a qualifying item, wins. With each round the category picker rotates. Here are a few categories to creep things fun and interesting.