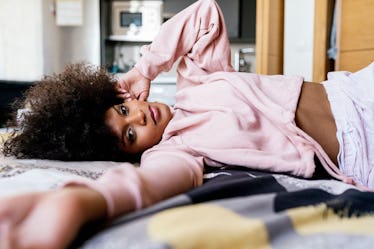 Experts Reveal How To Make Your Home A Total Sanctuary During The New Year
Whenever I feel like I need to shake things up, I go into full Extreme Makeover: Home Edition mode. I move around small pieces of furniture, rearrange decor on different shelves, and head to Target for yet another cute throw pillow. Something about shifting things in my environment helps me refresh my mind, and with the new year approaching, I'm preparing for a big transformation that focuses on creating a calming atmosphere. These 2019 New Year's resolutions for your home are just the thing for making your space the sanctuary you deserve.
Before you start making any changes, whether major or minor, take a moment to think about any parts of your current home that really aren't working for you. "Assess, then address," suggests yoga therapist Lisa Diers, RDN, LD, E-RYT. "In order to reduce stress, it helps to know what stresses you out," she tells Elite Daily in an email. "It pays to take a few minutes for self-inquiry."
Once you've decided that the Black Sabbath poster from high school isn't exactly creating chill vibes, or that the mound of shoes in the corner of your room is making you anxious, you can start to tackle each area to transform your home into a calming place to return to at the end of a long day.