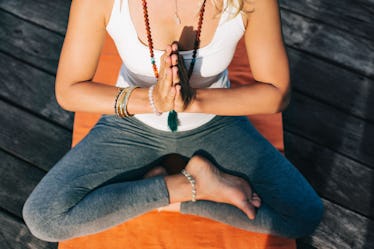 If The Summer Of Retrogrades Has You Feeling Overwhelmed, Try These 7 Yoga Poses
In case you haven't heard, the ~summer of retrogrades~ is upon us, my friends. By this I mean, seven planets will be going into retrograde in the coming months, and to say the least, it's going to be a seriously intense summer. While this might be a time of chaos for some, finding a few minutes each day to flow through some yoga poses for mental clarity is a great way to stay grounded, centered, and as mentally stable as possible during this turbulent time.
If you need a little refresher on what the heck a retrograde actually is, it simply refers to when a planet appears to be rolling backward in its orbit from Earth. In astrology, this appearance of backward movement is said to shift the energy down here on Earth, making many people feel a little (or a lot) out of whack. As of June 2018, five planets are in retrograde (yes, all at once), so if you've been feeling out of sorts lately, cut yourself a break, girlfriend. Jupiter, Saturn, Pluto, Neptune, and Mars may be contributing to that mental haze you've been stuck in these last several weeks. Oh, and according to Refinery29, two more planets will be joining the retrograde lineup in the coming months: Uranus, and everyone's absolute favorite, Mercury. Fun!
Though I'm joking around and using sarcasm to cope with all of this planetary madness, if you're feeling all the feels, don't beat yourself up. Instead, use this time to indulge in self-care practices like yoga to connect with any difficult emotions that may be surfacing. These seven poses will help you tap into a glorious sense of mental clarity when you need it most.
And remember, these asanas aren't limited to just the summer of retrogrades. Feel free to flow through this clarifying practice whenever you're feeling scatterbrained, or any time when things feel chaotic.