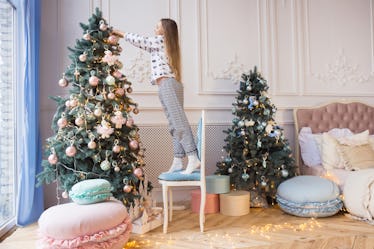 7 Hilarious Similarities Between Waking Up On Christmas When You're 5 Vs. 25
stacestock/Fotolia
Christmas morning is like going to Disney World — magical, and the exact moment that you realize you'll always be a kid at heart. You might have swapped that juice box for a mimosa at the annual Christmas morning breakfast this year, but everything else is ironically the same. Waking up on Christmas when you're 5 vs. 25 years old can feel weird that way, but honestly? We wouldn't trade it for the world.
The excitement of opening gifts at the crack of dawn, and throwing the wrapping paper into a big pile across the room is just a tradition you'll never be ready to give up. This year, you might be even more excited to see the people you love open the gifts you gave them... I guess adulting is never too far off from being a kid.
After all, you've spent the past month stressing about end-of-the-year deadlines, what to wear to the office holiday party, where to buy plane tickets (so you can dreadfully battle airport lines, and happily be home for the holidays), and when you'll find the time for your yearly viewing of Elf. Sometimes being an adult means the entire holiday season isn't so wonderful — but Christmas morning is your time to be festive, fun, and 5 years old again.
So, here's seven things that will be oddly be the same waking up this Christmas morning.