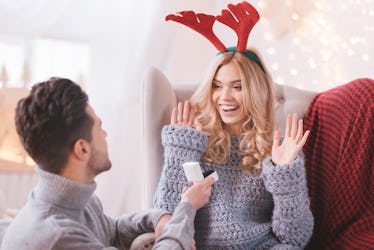 25 Christmas Proposal Instagram Captions That Are Sweeter Than Candy Canes
The holidays are seriously the most wonderful time of the year. And if you happen to get a life-long commitment, like a proposal, for your Christmas gift, the feelings are all over the place. Christmas proposal Instagram captions can do no wrong because everyone is super hung up on the idea that Santa brought you a lifelong partner. Damn, you've clearly been super good this year. Either way, you deserve everything this moment has to offer.
Christmas is already magical and adding a little bling to your finger is the ultimate way to sleigh this year. As much as Christmas already puts you in an amazing mood, getting proposed to on that day will have you feeling incredibly limitless. People get proposed to every day, but since you unwrapped the beginning of forever on such a special day, you have to reiterate those amazing feelings to onlookers. How can you not share this brilliant, new factor of your life? Forget your Christmas tree, you and that ring have become the brightest thing in the room.
I mean, you don't have to use all of your characters on Instagram and explain the first day you two met. It should be full of the Christmas spirit though and really capture your excitement, as most proposal posts do. So, if that special person in your life decides to pop the big question as you eagerly sit down by your Christmas tree, you won't be able to resist these captions to go along with that enchanting snapshot.
1. "Merry me." —Unknown
2. "Could I hold your hands for a moment, and your heart forever?" — Grace Willows
3. "Any day spent with you is my favorite day. So, today is my new favorite day." — A.A. Milne
4. "Christmas is too sparkly. Said no one. Ever." — Unknown
5. "Once in awhile, right in the middle of an ordinary life, love gives us a fairytale." — Unknown
6. "Tis the season to sparkle." — Unknown
7. "You're my spark in the dark." — Unknown
8. "Love doesn't make the world go 'round. Love is what makes the ride worthwhile." — Franklin P. Jones
9. "Gravitation cannot be held responsible for people falling in love." — Albert Einstein
10. "Because when you stop and look around, life is pretty amazing." —Unknown
11. "I couldn't have dreamed you into existence because I didn't even know I needed you. You must have been sent to me." — Kamand Kojouri
12. "Give a man a finger, he'll put a wedding ring on it!" — Ljupka Cvetanova
13. "Thank you for being the reason I smile." — Unknown
14. "If kisses were snowflakes, I'd send you a blizzard." — Unknown
15. "Have yourself a merry little Christmas." — Unknown
16. "All things are made beautiful at a timely hour." — Lailah Gifty Akita
17. "By the way, I'm wearing the smile you gave me." — Unknown
18. "In love, it's only those who trust each other, who can make it until the end." — Auliq Ice
19. "Christmas waves a magic wand over this world, and behold, everything is softer and more beautiful." — Norman Vincent Peale
20. "Christmas isn't a season. It's a feeling." — Edna Ferber
21. "Christmas is doing a little something extra for someone." — Charles M. Schulz
22. "Christmas is the day that holds all time together." — Alexander Smith
23. "Your heart and my heart are very, very old friends." — Unknown
24. "Anyone can catch your eye, but it takes someone special to catch your heart." — Anonymous
25. "Trip over love, you can get up. Fall in love and you fall forever." —Anonymous
Proposals are beautiful, no matter what day of the year they land on because it's a new exciting chapter in someone's life. A Christmas proposal is simply an extra special gift that will literally keep on giving.