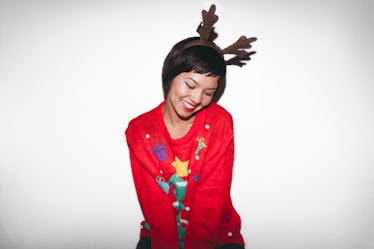 7 Last-Minute Christmas Sweaters You Can Still Buy, In Case You're Procrastinating
The holiday season, also known as the age of procrastination, is upon us, and with so many deadlines and parties and gift swaps, it really isn't your fault for forgetting a thing or two. After all, Beyoncé is the only person who can take 24 hours and turn that into 30. The rest of us are mere mortals who could use a little help now and again, which is why it's essential to know where to buy last-minute Christmas sweaters so you don't actually have to admit the slip-up to anyone else.
A good, tacky Christmas sweater is the ultimate closet necessity. Sure, you'll only wear it one or two times a year, but how many times have you groaned and kicked yourself for not already having one? The fact of the matter is that we live in a world where a gaudy Christmas sweater is a point of currency, and the faster you have one, the easier your life will be (bonus points when you don't have to bear the brunt of shipping costs).
It doesn't truly feel like the holidays until you've worn a brutally colorful Christmas sweater adorned with sequins, pompoms, and maybe even some wordplay. Here are seven last-minute Christmas sweater options with great deals for shipping so you can get your hands on them ASAP.