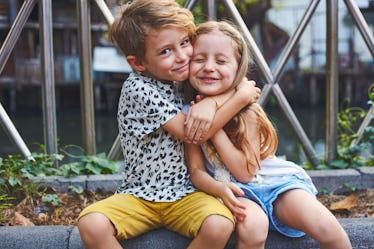 7 Ways Older Brothers Prove There Really Are Genuinely Good Guys Out There
Photo-maxx/Fotolia
Don't lose hope. Good guys do exist. When you're 20-something and struggling to find that special someone, it can be difficult to not be cynical about love and relationships. You take up new hobbies, fall in love with yourself, and wait for all of the stars in the universe to align to bring you a good guy (Probably blaming Mercury Retrograde along the way.) Truth is, it doesn't take a big neon sign to find the one. There are many ways older brothers prove there are good guys out there. So, before you become a Grinch, look to the awesome guy already in your life.
Being a brother is a big job. He's a role model, a secret-keeper, and a friend. As an older brother, he's expected to pave the way -- for future mistakes, family mishaps, and mac and cheese dinners.
What he doesn't realize is that he is also the perfect proof that settling for succulents and the single life isn't the only option. Relationships are tricky, but a lot of the same traits that make him a good older brother, make him exactly what girls are looking for in their soulmates.
Here are seven ways your older brother is living proof that one day your prince will come... and it will be legen- wait for it -dary.