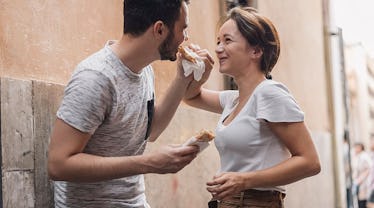 7 Unique Ways To Celebrate Valentine's Day, Because You Deserve A Memorable Day
Valentine's Day is basically tomorrow, so you're probably starting to brainstorm how you can wow your date, especially if this is your first V-Day together. Sure, dinner at a bougie restaurant always does the job, but what about taking it a step further? Instead of taking your date on a typical Feb. 14 date, maybe you want to consider more unique ways to celebrate Valentine's Day this time around. But regardless of what you decide to plan for "the most romantic day of the year," your date will probably love it, simply because you made the effort to plan something for them.
"So many times, we are somewhat forced to picture Valentine's Day a particular way — roses, chocolates, tiny plush bears — and it seems like the romance is manufactured for us," Tyler Turk, founder of Crated With Love, previously told Bustle. "In reality, Valentine's Day is meant to celebrate your love for that special someone. Love is rarely contrived — it is unique, spontaneous, and needs to be special! Instead of falling into doing the same thing, find a unique activity that helps spark some of those feelings of excitement and anticipation, just like you had when you first started dating!"
While roses, chocolate, tiny plush bears, and dinner are all great ways to celebrate V-Day, replacing the traditional with one of these unique dates can add the cherry on top of your romantic evening.
This article was originally published on