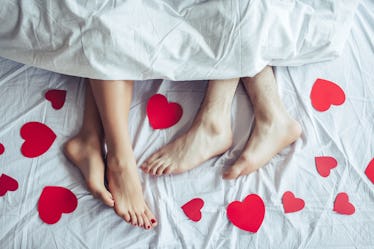 5 Valentine's Day 2019 Sex Positions To Rock Your Valentine's World
No matter how you feel about Valentine's Day normally, trust me when I say that this year, you're going to want to celebrate. If you're naturally romantic, you probably already have some plans in mind, but even for the most cynical among us, there is a very good reason to embrace V-Day: The celebrating you'll doing in the bedroom. Maybe cards, balloons, and a dozen roses aren't your jam, and that's fine. But trust when I say that these Valentine's Day 2019 sex positions are guaranteed to put anyone in the holiday spirit.
That's because, despite what the greeting card industry wants you to believe, at its core this holiday is really about getting close to the one you love and celebrating that love in whatever way feels best for you. And if that means celebrating in the way that literally feels best, well, then, fantastic. The key is to just shift the focus to really cherishing the person you love and using it as an excuse to refocus on one another, not just for the day but moving forward throughout the year. As for how I celebrate? Well, I suggest giving give these oh-so-very-adult activities a try with your Valentine. Get ready to be become a Valentine's Day believer.