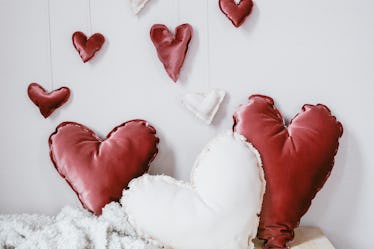 6 Valentine's Day Dates For Couples That Are Cooler Than Just A Fancy Dinner  
Hear me out. Sometimes, a fancy dinner really is the perfect way to commemorate an occasion. But when it comes to Valentine's Day, getting a bougie meal can start to feel like it's the only real option — when it's not! There are actually plenty of Valentine's Day dates besides dinner. And while I know some of my fellow foodies are rolling their eyes at the thought of a romantic night where a decadent meal isn't the main attraction, there's certainly a case to be made for having another activity on the menu for the night.
My main gripe with choosing to plan your entire V-Day around dinner is the simple fact that millions of people in your city will be doing the exact same thing. And while there's nothing inherently wrong with going the traditional route, chances are you are going to be in for several hours of crowds, shouting, long waits for food, and a pressurized "romantic" environment. So before you call up the fanciest place you can comfortably afford, consider planning an activity to follow — or in the place of — just dinner. Here are six romantic date ideas that are likely to be a welcomed change from the usual.
1. Going Dancing
Going dancing really is an amazing date — just think about all of the fun times you've probably had with randos you met in the club. For the more romantic peeps, instead of hitting up a regular old club, consider going to a salsa or merengue spot to get out of your comfort zone.
2. Seeing A Burlesque Show
If something sexy and sensual is more your style, then a great way to get those seductive vibes flowing is to get tickets to a burlesque show. Have a couple drinks, watch a couple strip-teases, and roll on back to one of your places and reenact some of your favorite moments for each other.
3. Have A Stargazing Picnic
Assuming the weather where you live isn't excruciatingly cold this time of year, I can't think of a more magical night than planning a romantic picnic under the moonlight. If you have roof access, then you won't even need to leave your apartment. Set up some blankets, have a couple bottles of wine ready, make sure there is plenty of romantic décor (think string lights and comfy pillows) and you're good to go.
4. Take A Cooking Class
If cooking is something that both you and your partner enjoy, then why not make an event of it? Taking a cooking class is not only super fun, but at the end, you get to enjoy the meal you cooked together.
5. Visit A Spa
I'm sorry, but going to the spa with your bae pretty much never gets old. If you really want to splurge, consider making a reservation for a couples massage as an extra special treat that just about anyone would enjoy.
6. Tour A Winery
If vino is your middle name, then spending the day at a winery is a romantic excuse to get drunk with your SO. The great thing about visiting a winery is that it's kind of feels like a one-stop-shop — you can take a tour, stomp grapes, have a a tasting, and get dinner at the end of the night if the mood strikes.
Valentine's Day is the perfect opportunity to ditch your usual date plans and going for something a little bit different. Even if you have to have a more modest dinner to afford an additional activity, the look on your bae's face when they realize you planned something extra-special for them will be well worth it. And hey, no waiting around in long lines at restaurants.
Check out the entire Gen Why series and other videos on Facebook and the Bustle app across Apple TV, Roku, and Amazon Fire TV.
Check out the "Best of Elite Daily" stream in the Bustle App for more stories just like this!