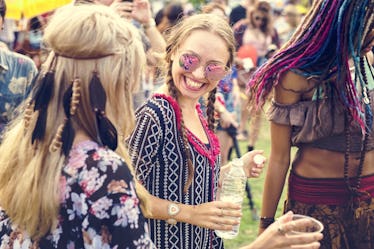 7 Tips To Planning An Unforgettable Music Festival Trip With Your Girlfriends
The best part about a music festival is that there's so much to see and do. But, it can also get a little overwhelming when you're dealing with a ton of your favorite bands, multiple stages, big crowds, and only one you. Factor in the large group of girlfriends you're going with, and you know it's only going to add fuel to the crazy fire. You certainly want to have the time of your life, so you and your girlfriends should consider some tips to planning a music festival trip together.
With a little prep before you head out, you'll be able to make the most of your music festival experience. You've saved money for that ticket, picked out the trendiest outfits, and it's been pretty much a year in the making — so you shouldn't have to leave anything up to chance if you don't want to. Sure, some people like going with the flow at music festivals without a specific schedule to follow. But, you'll probably have far fewer worries if you follow a few of these pre-festival tips before you embrace your wanderlust. You and your besties will be living the good life before you know it.