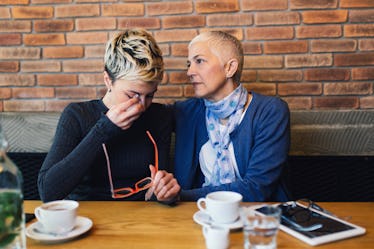 7 Tips For Coming Out To Your Parents, Because It Can Be A Tough Convo
Shutterstock
Let me tell you, coming out to my parents as "pansexual non-binary" was more confusing than trying to do my taxes for the first time (which, BTW, I gravely messed up). No matter how close you are with your folks, talking to them about your gender and sexuality can be hard. Whether you've never discussed anything in this realm or you've lightly touched on gender, these tips for coming out to your parents may help you get the LGBTQ ball rolling.
"Coming out, or 'inviting in,' looks different for everyone as we all have our unique paths to understand and to accept ourselves with relation to our gender and sexual identities," Jor-El Caraballo, co-creator of holistic wellness center Viva Wellness and a therapist specializing in LGBTQ clients tells Elite Daily. "Coming out to parents can be tough, no matter what your age is, especially if you're not sure that they'll be 100% accepting of your identity."
Whether you're not ready or just not interested in talking to your parents about your queer identity, you never need to feel any pressure.
But if you're feeling ready to express yourself to your folks, here are seven tips for coming out to your parents.