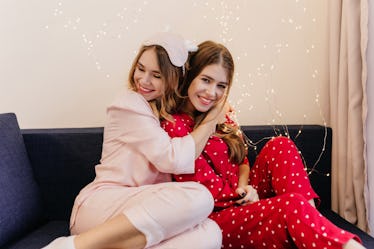 7 Times Staying In With Your BFF Is So Much Better Than Going Out
As extroverted as I may seem, I'm an introvert through and through. Paradise to me is staying in on a Friday night with pizza, my best friend, and a good rom-com, while wearing the coziest pair of pajamas. That's why I love looking for excuses to stay home. If you're anything like me, you live for all of the times staying in with your best friend is so much better than a night out on the town.
It's not that you're actively looking for excuses to ditch girls' night out with the crew; you just know that there are particular factors that make a girls' night in much more appealing. Some of these seven instances are even out of your control (like the weather), so you might as well let the universe speak for itself.
A cozy night at home just might be in the cards for you this weekend, and you can't wait to celebrate. You don't even have to worry about the FOMO, because you have your best friend right by your side. So, put on the comfiest sweatpants and fuzzy slippers, order up the delivery food, start your Netflix queue, and get ready for the best night in with your favorite person.