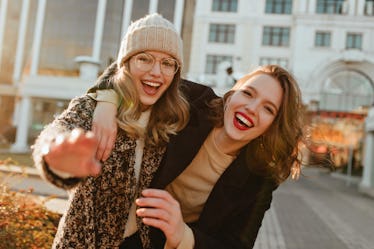 7 Things You Should Really Thank Your Bestie For On Thanksgiving
Shutterstock
On any given occasion, you can write down hundreds of things you're grateful for. For instance, you may be grateful for the barista who perfectly brews your pumpkin-flavored lattes, and your BFF who intently listens to your rants about work, relationships, and being an adult in the "real world." They're your rock, your day one — and there are many things to thank your best friend for on Thanksgiving, and honestly always.
If you tried to jot it all down, it would take up an entire notebook. And if you tried to say thanks in person for it all, it would likely take up a whole afternoon. You would miss out on the sweet potato casserole, cranberry sauce, and turkey that comes with this holiday, and wouldn't be able to catch up on the score of the football game. That's why you've decided to focus on a few things that on a daily basis make you think, "Wow. I'm so lucky to have my best friend."
These may be the times that are usually indescribable because they're so sweet, or the things you forget to appreciate your BFF for because they do them on the reg. Granted, not all of these points may apply to your friendship. But most of these seven things to thank your best friend for on Turkey Day probably will.