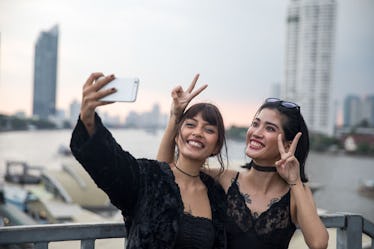 10 Important Things To Thank Your Bestie For That You May Take For Granted
Your bestie is there for you through thick and thin, and sometimes, you can communicate with each other with just a simple look. Whether they're holding your dress up when you have to use the restroom at a formal event, or helping you retrace your steps to find your misplaced phone, your bestie never fails to show you how much they care. But because you both know each other so well and you're always together, you sometimes forget just how much they do for you. Here are some important things to thank your best friend for that you may take for granted without even knowing it.
It goes without saying, but your bestie knows how much you appreciate them. They know that you'll always have their back the same way they have yours. But every once in a while, it would be nice to thank them and show them how much you appreciate them. You can take them out for dinner, gift them a thoughtful little something, or even just say "thank you" out loud. They'll be so touched, and it will only help your friendship grow even stronger than it was before.
If your BFF does any of these things for you, you'll definitely want to thank them ASAP.