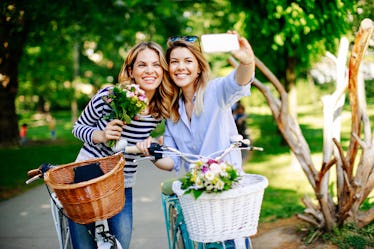 7 Springtime Things To Do With Your Sis If Your 'Gram Needs A Pop Of Color
Spring truly is the best time of the year. Finally, the sun is out and the flowers are in bloom. We get to say, "Boy bye," to those cold months of winter. As we're thawing out, it feels like waking up from a nap, feeling refreshed, and ready to hit the ground running. Going outside is a must, and the best partner for those adventures is your sister. She is your BFF after all, so you're so down for things to do with your sister in the spring.
Pretty much any activity is made 10 times better by having your sis by your side. Not only does she know how to make you laugh, but she is the perfect photographer for all of those Insta-worthy pics you'll be taking. For real, my sister is the only person I trust to take pictures of me that I know I'll love. We are so in sync, she just gets it, and we all know getting those sweet sunshine selfies for the 'Gram is necessary to show your friends that you and spring are MFEO.
There's no time to waste, spring is almost here! So get out and do these seven things with your favorite person in the world — your sister.