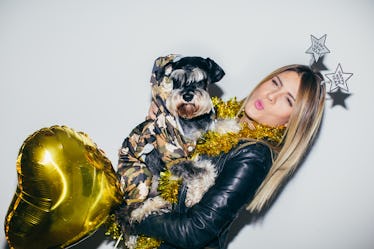 7 Things To Do With Your Pup On New Year's If You Like Him Better Than Humans
New Year's Eve is the last chance to get lit this year. Sparkles, drinks, and fireworks galore! It's the time to celebrate a brand new start. Unfortunately, for our furry friends, that celebration can sound more like a nightmare than a party. If your dog is easily frightened by loud noises, sometimes it's better just to stay home and cuddle on the couch than to bring them out on New Year's Eve. If you have an anxious dog, staying at home and planning some fun things to do with your dog on New Year's sounds like the perfect idea.
You can still dress up if you want, but when you're hanging back with your best friend instead, you don't need to throw on those heels that hurt five minutes after wearing them. Instead, you can slip on your favorite pair of comfy slippers and holiday onesie There's also no stress about that midnight kiss, because you know you'll be getting a sweet smooch from your doggie best friend.
Honestly, a relaxing New Year's Eve with your dog sounds like an ideal NYE party, and these seven things to do with your fur baby on New Year's will make it the best night of the year. It's the most exclusive party in town that will have all of your friends super jealous. Don't have a ruff New Year's Eve. Instead, have one to remember, so you truly start off a happy fur year!