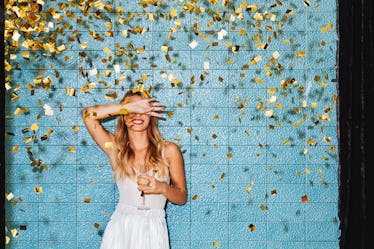 7 Creative Things To Do On New Year's Eve When You're Broke & Tired AF
Lumina/Stocksy
Pop the champagne... It's almost New Year's Eve. You might already have plans in the city or a sparkly outfit hanging in your closet just waiting to hit the dance floor. But if you don't have plans or pennies to spend ringing in the New Year, don't fret. Our bank accounts are wiped from the holidays, so partying in the city or booking that suite downtown just isn't always an ideal option. Sure, a little party never killed nobody, but bar covers and a little black dress might truly put your bank account into shock. Lucky for you and your crew, there are so many things to do on New Year's Eve when you're broke.
The city never sleeps, but you sure do. You're probably feeling like the lamest of them all right about now. Your friends have texted you a million times with tickets to clubs or getaways for the night of — truly an "ugh" moment.
As a 20-something, you might feel like you need to have all the energy, and maybe money, in the world for this sort of thing. You're not quite a broke college kid anymore, but your funds for fun are limited. Maybe you just moved into your own apartment or are saving up for other things you want to do. It's OK to not want to drop loads of cash on one night.
So, if you're in the need of a cheaper and chiller celebration, here are seven creative things you can do to still make your midnight magical. Happy almost 2018, all.