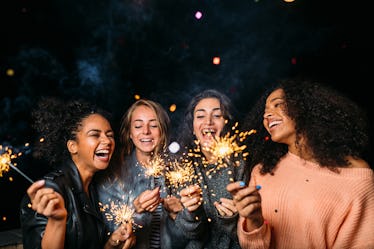 21 Magical Instagram Captions For Your New Year's Eve Fireworks Pics
Artem Varnitsin/Fotolia
Get your champagne, sparklers, and friends ready. It's almost New Year's Eve! The holiday season brings a lot of glitter -- from DIY Christmas presents, to dresses with sequins for our favorite midnight of the year. Our lives feel like something out of The Great Gatsby, and we're head over sparkly heels in love with it. Per usual, the hardest (and arguably one of the most stressful) parts of this season is capturing the Kodak moments, and curating the social media posts to follow. The Instagram captions for fireworks pics this New Year's Eve are endless, but we've rounded up the best to make sure you're starting your year off right.
If you're anything like me, you're going into New Year's with a vision that you just have to create. You've spent hours daydreaming of the perfect photo with the ideal balance of reds, golds, and blacks. Maybe there's a sparkler or two in your hand, or one of those photo booth props that seem to show up at every party.
Maybe you're celebrating with your bae, and want a picture that forever feels like a line out of Taylor Swift's "New Years Day." Leave it to the poets and songwriters in this world to know the exact words to describe moments in time like that -- what would our Instagram's do without them?
You might have made plans to have a casual and comfy night in with friends. In that case, you've already imagined what your spread will look like, or that onesie pic you'll snag with your besties by your side. An Instagram post that will surely prove ringing in the New Year in a festive fleece 'fit and endless snacks at your instant disposal is underrated beyond belief.
However you're spending your New Year's, I hope it's full of magic. New Year's brings a lot of hope -- for new beginnings, adventures, and relationships. You may have written down resolutions, or just have some things in mind that will make this your best year yet. It's going to be our year, right?
Just before you start cleaning up the Polaroids and the spilled champagne, and jumping head first into life's next adventure the following day -- make a toast and a post. If you're standing in front of a huge firework display, or brought the light show closer to home with sparklers in hand, these captions are sure to make your New Year's night and Instagram a little bright.
1. "Baby, you're a firework." -- Katy Perry
2. "And we were dancing, dancing... like we're made of starlight." -- Taylor Swift
3. "You can't start a fire without a spark." -- Bruce Springsteen
4. " ... And so the adventure begins." -- Unknown
5. "Cheers to new years." -- Unknown
6. "I want your midnights." -- Taylor Swift
7. "Don't let anyone dull your sparkle." -- Unknown
8. "A sky full of stars." -- Coldplay
9. "Every new beginning comes from some other beginning's end." -- Semisonic
10. "Shine bright like a diamond." -- Rihanna
11. "... and here you are, making gold out of it." -- Rupi Kaur
12. "We didn't start the fire(works)." -- Unknown
13. "This girl is on fire." -- Alicia Keys
14. "Every night with us is like a dream." -- Taylor Swift
15. "A glow up." -- Unknown
16. "Oh, won't you be my livewire... make me feel like I'm set on fire." -- Oh Wonder
17. "Sparks fly." -- Taylor Swift
18. "The start of something new." -- High School Musical
19. "New year and new beginnings." -- Unknown
20. "Laughter is the fireworks of the soul." -- Unknown
21. "Views." -- Drake
2018, we're oh-so-ready for you. Cheers to another year coming and going, to feeling festive one more time, and to constantly blowing up our followers' feeds.