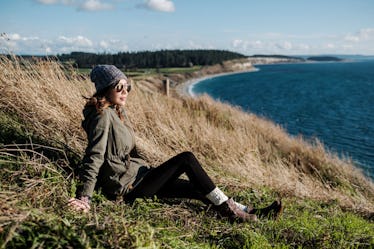 7 Things That Get You Excited For The Fall In The Summer & Prepped For PSL Season
Summer is here, and as excited as you are for beach days, warm weather, and rocking as many sundresses as possible, there's something else that has your full attention. You love summer — you really do — but you love it the most for being the season that comes right before fall. I don't know about you, but I can't wait to break out my cozy sweaters, beanies, and start drinking Pumpkin Spice Lattes again. You can't help it if you're distracted by all the things that get you excited for the fall in the summer.
You couldn't wait for the warm weather, so you could finally wear those denim shorts at the bottom of your dresser. However, when you're trying to cool down by sitting directly in front of the air conditioner, you start to fantasize about the perfectly crisp weather of autumn. You also love drinking a piña coladas out of a real coconut, but it just doesn't compare to enjoying a PSL while cuddled up close to your bae. Of course, you're happy to be living on #SaltTime, but you're also getting yourself pumped up for what's to come after summer fades away.
You may not want to shout out to the world how excited you are about the fall, because you don't want to upset the hardcore summer lovers out there, but you can quietly party about these seven things that have you totally ready for fall.