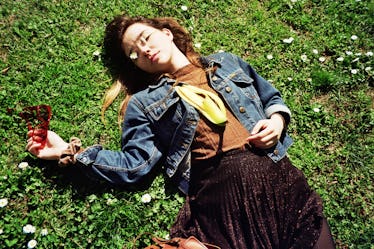 14 Struggles Every Fall-Lover Endures In The Summer When All You Want Is A PSL
Don't get me wrong — I love the summer. It's sunny, warm, and gives me an excuse to snooze in a hammock on the beach. I'm all for that summery state of mind, for about a week. Now, I'm just patiently waiting for my absolute fave season, fall, to come back into my life. Give me apple cider donuts and pumpkin patches any day. I'm ready! Unfortunately, I have to give summer its time in the spotlight, and wait a little bit longer to be reunited with my beloved Pumpkin Spice Latte. Oh, the agony. If you feel the same as me, you understand the struggles every fall-lover deals with in the summer.
As much as I love summer camping trips, I'm already sunburnt and sweating through everything. The cooler weather can't come soon enough, and I'm just waiting for the colors outside to change to those beautiful hues of red, orange, and yellow. Is it really too much to ask for every other season to be cut short a few weeks, so I can have a longer autumn?! I don't think so, considering I have to jam-pack my fall days with pumpkin patches, hayrides, haunted houses, and sipping PSLs in front of the fireplace with bae. I would love a longer fall, but until then, I guess the rest of us fall-lovers will just have to suffer through these 14 things as summer just hangs around.