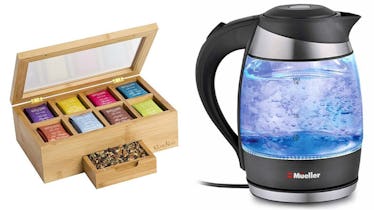 Every Tea Lover Needs These 7 Essentials To Make The Most Of Their Cozy Habit
Amazon
While you might have thought that the holiday season is all wrapped up, think again, y'all. January might be the most important month of all when it comes to celebrations, in fact, especially for lovers of hot beverages. Because it is now — drum roll, please — National Hot Tea Month. So, if you're the type to always have a mug of piping hot English breakfast in your hands, this is the absolute perfect time to treat yourself to all the things tea lovers need in their life, because you totally deserve to be pampered when it comes to this cozy habit.
And trust, drinking tea really is a great practice to get into if you aren't a believer in the stuff already. In an email to Elite Daily, The Tea Council of the USA shares some of the awesome, science-backed health benefits of tea, like how good it can be for your heart health, and even your memory. One particularly interesting study published in the medical journal Phytomedicine seems to show that drinking green tea might be linked to reduced anxiety, thanks to calming components like the amino acid L-theanine — which is definitely a side effect I'd be happy to benefit from, TBH.
So listen, why not treat yourself to a nice cup of tea right now, and get a few of these tea-centric necessities for yourself, or even a tea lover in your life?