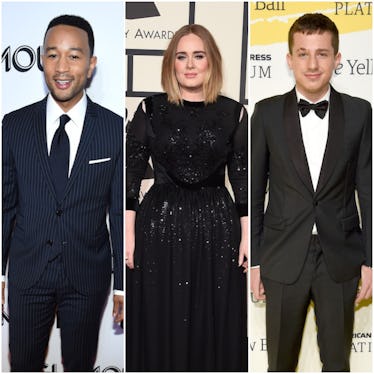 7 Thanksgiving Spotify Playlists Perfect To Jam Out To While You Eat Your Turkey Dinner
Frazer Harrison/Jason Merritt/Dimitrios Kambouris/Getty Images Entertainment/Getty Images
If you're like me, then you know that music is the ultimate mood-setter. It's the easiest thing to add to a shindig, and it sets the vibe up before a guest even walks through your door. And because Thanksgiving is such an important holiday, it should be treated with the utmost respect in all ways, meaning that your stomach isn't the only thing that should be happy. Your ears deserve some love, too, people! So instead of gathering friends and family around a silent dinner table, you should probably check out these Thanksgiving Spotify playlists to listen to on Turkey Day, because it will pretty much ensure that your holiday is a success.
Keep in mind that even if you're not the host but rather a guest, suggesting a holiday playlist for your Thanksgiving dinner isn't rude. If anything, your host will probably thank you for reminding him or her to play some tunes, because there is literally nothing worse than hearing your Uncle Larry chewing too loudly, or your little cousin playing games on his iPad under the table. Trust me on this one.
Without further adieu, let's get this ball rolling! Or this turkey gobbling. You get the idea, right?
For the drive to your family's house:
Nothing gets me more amped than driving in a car filled with good music. The best part about this playlist is that it all revolves around going home and being with family, aka, what Thanksgiving is all about (that, and stuffing, obviously). It's also a playlist that has something for everyone. Someone who craves traditional will love themselves some Michael Bublè, while someone who'd rather have a more... unconventional spin will rock out to Kanye West. It's a win-win.
For the fancy-schmancy dinner guests:
If you want to set the mood with some classical music, then this is the playlist for you. This is less about the music itself, and more about having something light and soft playing in the background of your gathering. Plus, you'll get bonus points with the in-laws (or anyone you're trying to impress, really) for playing Beethoven.
For those who are food-centric:
What day is it? Thanksgiving! When do we want our food? NOW!
Look. Listen. If you love Thanksgiving because food is life, I get you. I understand you. And I also understand that your meal is the most important thing on this holiday, which is why this playlist is literally made for you. Why? Because it's basically all about food.
For those who want an eclectic mix:
This is — you guessed it — a playlist that has a ton of music about food and eating, but it also has a pretty cool variety of artists. We're talking some hits by Lenny Kravitz and the Beastie Boys, but also some tunes by Ella Fitzgerald and Dave Matthews Band. Like I said, guys: eclectic.
For a very country Thanksgiving meal:
That's right, y'all. Break out your finest cowboy boots for Thanksgiving this year, because we're adding just a little bit of country in your life with this playlist. Kacey Musgraves will charm you as you eat your sweet potato pie. Chris Stapleton will woo you while you're digging into your fried turkey. And Mumford & Sons will keep you going well into dessert. You're welcome.
For an old-school Thanksgiving meal:
This playlist is soft and sweet and will basically make everyone happy. But keep in mind: pair this playlist with all of that tryptophan from your turkey, and you *might* have a few guests falling asleep on the couch before you even put a pot of coffee on. You've been warned.
If you've got plenty to be thankful for this year:
This one is a fantastic go-to if you want music that brings out the happy in you. There are some older tracks on here (shout out to Earth, Wind & Fire), but there's also some newer, more relevant tunes, too (looking at you, Adele) that will make for a playlist that's the ultimate crowd-pleaser.
All in all, you can't really go wrong with any of these playlists, so choose which one speaks to you the most. Just remember that no matter what tunes you're rocking out to, make sure you tell everyone just how thankful you are to be celebrating together. Yes, even Uncle Larry.
Happy listening, guys!