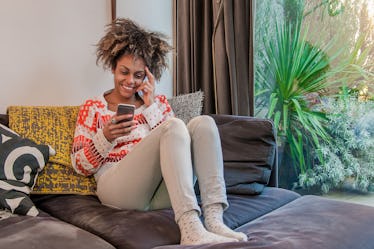 7 Texts To Send When You're Falling In Love, But Haven't Said ILY IRL
Shutterstock
Whether you drop a screenshot in your group message for all your besties to decipher or you reread a text for an hour extrapolating what it "really means," unpacking a text from your crush can be like trying to translate a message from a U.F.O. Of course, when you start dating someone you may quickly learn how they communicate. The more you talk IRL, the more texting may seem to flow. Still, when you're really in deep, knowing some texts to send when you're falling in love can be totally helpful.
Whether you knew your partner was "the one" on your first date or your fiery love was a Kacey Musgrave-style slow song, expressing how you feel looks different for everyone. No matter how long you've been seeing someone, falling in love happens on its own timeline. If you and your boo haven't yet dropped an IRL ILY, you may be waiting to say the literal words in person. Whatever the case, sending a thoughtful text can be a sweet way to express how much you care.
Here are seven texts to send if you're falling in love, but aren't quite ready to text the L-word.