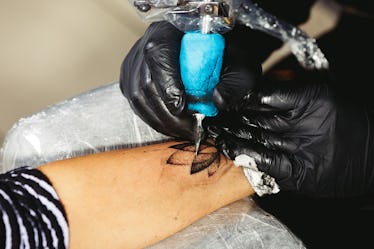 7 Subtle Flower Tattoos You'll Want To Get With Your Bestie
Sure, you'll have a ton of good friends in your lifetime, but a true best friend is like a rare flower. Your bestie should be the perfect combination of genuine, loyal, supportive, and loving — and you should grow together. They will be there for you through all of the rough road blocks life presents, and have been the ones who've made you laugh until you cried. You love your bestie more than anything, and you want the world to know you're tied together for eternity. A BFF bracelet is a solid start, but if you're in the market for something more permanent, consider getting subtle flower tattoos together. Your friendship continues to blossom, so this kind of design couldn't be more fitting.
Not only do flowers make for some of the most beautiful tats, but each flower comes with a unique meaning. For example, when you see a rose, love and passion most likely come to mind first. You've already picked out a best friend for life, so the next step is picking out a flower tattoo that perfectly defines your friendship. There are fields upon fields for inspiration, but if you need a little help, here are seven flower tattoos for you and your best bud to choose from.