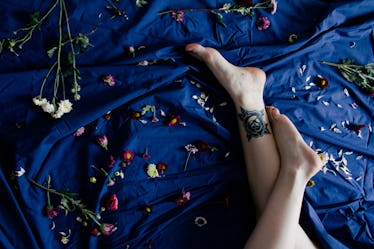 7 Beautiful Floral Tattoos For Spring That'll Speak To Your Inner Flower Child
Spring is all about fresh renewal in Mother Nature, but it also means sun dresses, floppy hats, and sandals. And since the spirit of rejuvenation is in the air, you can't go wrong welcoming the season with a sweet tattoo. Flowers are going to be budding and blooming everywhere before we know it, and floral tattoo ideas are literally at your fingertips and in your backyard.
There are so many different variations of flowers, and depending on what you like, they can be drawn into a subtle, beautiful tattoo. There's nothing wrong with a small tattoo that reminds you of how stunning nature can be. Every time you look at it — even during the colder months — it'll be your little ray of sunshine that's proof that there are warmer times to be had.
Tattoos are permanent, so you should definitely consider something that you really want. Did I also mention how insanely adorable little flower tats look with your off-the-shoulder tops, strappy sandals, and floral-printed attire in general? Flowers have paved their way into a countless amount of prints, and now you can wear a small piece of one forever. Don't let the permanency deter you though, because there are plenty of little flower gems that are worth getting tatted.