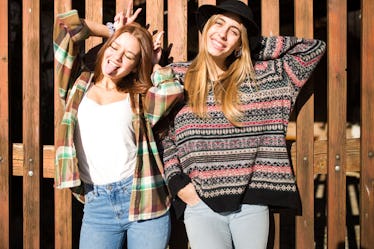 7 Relatable Struggles When You're Always Cold & Your BFF Is Always Hot
You and your BFF likely agree on most things. You share the same sense of humor, love of movies, favorite foods, and a ton of secrets, but the only thing you can't agree on is the temperature. You're always cold, and she's always hot. Sure, your bestie is the PB to your J (but that PB is extra warm all the time, and you're some freezing cold J). Even though the difference in body temps doesn't stop you from being forever friends, that doesn't mean the struggles when you're always cold and your BFF is always hot aren't real.
We all know in any relationship, even a best friendship, you have to take one for the team every now and then. You know that your sacrifice for your bestie is that you'll always be cold when you're around her, because she always tends to run warm. You'll never understand how she can be so hot when you're freezing your butt off, but that's just something you've come to terms with. In fact, you're an expert at dealing with these seven struggles by now. Though, you're not always concerned with the temperature, because being around your best friend takes your mind off all of that.