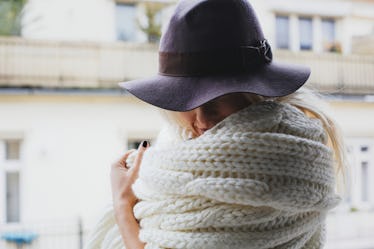 People Who Are Always Cold Know These 10 Daily Struggles Way Too Well
Raise your hand if you're really, really, really sick of snow at this point in the year. Yeah, winter can be a hypothetically cozy time of year, where you're socially encouraged to stay in all the time, and drink hot chocolate, and watch Netflix for hours on end. But it's also just plain awful, because you're frozen to the bone for about four months straight, no matter how many layers you don to make the hellish commute to and from work. People who are always cold feel the literal pain of the coldest season, and it can be enough to make you want to move to Florida just to get away from it all.
When you're a human icicle with frozen nubs for hands, it can be impossible to even remember what it feels like to be warm. The good news is that we're almost through with what has felt like one of the longest, most brutal winter seasons in recent history. The beach is so close, you can almost taste it — well, not really, because you're still shivering while you walk to work. But spring will be upon us any week now, so let's all cross our fingers that it comes sooner rather than later. Here are 10 of the most common struggles for people who are constantly frozen to the bone, no matter what they do.