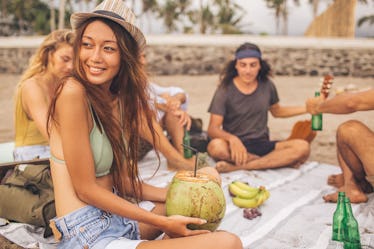 7 Accurate Struggles Of Going To The Beach With People Who Aren't On Your Wavelength
The waves are calling, and you must pick up. With summer upon us, it's prime time to hit up the beach as much as possible. Not only is playing in the water so refreshing, but the sunshine and salty air make for the best kind of days. You and the shore are practically like two peas in a pod, because when you're together, it just feels right. As much as you love going to the beach with your crew, you do find that the struggles of going to the beach with people can sometimes crush your good vibes.
We all have very different ideas of what the perfect beach day entails. For me, it's a quick trip to the shore to get a tan, take in the sunshine, dip my toes in the water, and unplug. For others, they love playing volleyball on the sand, surfing the waves, and having a full picnic in between to fuel up. Your day could really be a combination of it all; it's up to you. The only problem is, your perfect day might not be the same as everyone in your friend group. You really love hanging out with your squad, but when you're going to the beach as a group, you will deal with these seven struggles that you wouldn't have to deal with if it was just a solo trip.