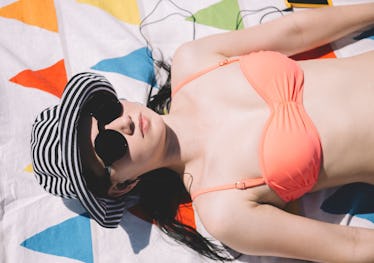 8 Total Buzzkills That Interrupt Your Good Vibes & Tan Lines At The Beach
The salty, cool breeze, soft sand between your toes, and sun shining down on you are three of the reasons why you get excited about long beach days. Although, as much as you may love your vacays at the shore, there can be a few minor annoyances. Don't get me wrong; I love the beach. I would be there all the time if I could, but even the best things in life can have a few setbacks, and that's what you face when dealing with the struggles of going to the beach.
I could go on all day long about the "salty hair, don't care" vibes of spending a day at the shore, but sometimes I do care (a lot). That's probably why some of these eight struggles you face at the beach can slightly take away from the good vibes and tan lines you have. I do believe accepting that these things will happen is the first step in having a solid beach day. It's all about knowing you will face them, but blocking them out — like a good pair of sunglasses — and focusing on the sun, surf, and sand instead. The struggle may be real, but I'm willing to deal for a fun day in the sun.