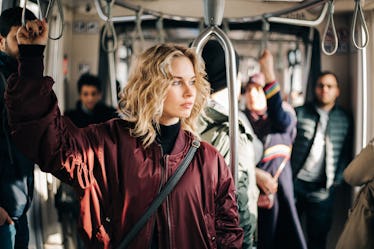 7 Commuting Struggles Millennials Deal With On The Daily That Make You Stronger, TBH
There are a few things that can make the struggle extra real, but in my opinion, none of them quite compare to the struggle of commuting every day. Your dream job may come along, and unfortunately, the office is located all the way downtown (and you live uptown). That's when you quickly learn the downside of having to drive or take public transportation to work on the reg. As much as you wish you could work remotely from the comforts of home, you know all too well the struggles of commuting that millennials deal with on the daily.
In a perfect world, your apartment would be right next to your office. But alas, you may have to settle for the neighborhood in your budget or live at home, which could mean making a trek. When I first moved to Los Angeles, I accepted a temp job in Santa Monica, which seems fine to any outsider, but living on the east side meant that every day I was adding an extra three hours to my journey. On the drive to work, the struggle was real only cruising 15 miles per hour on the freeway.
Whether you're commuting to class or your job, you know these seven struggles very well. Just know that you're not alone, and you're a much stronger person for dealing with it all.