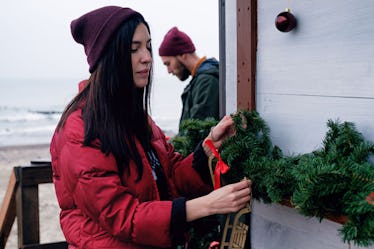 7 Stories About Ghosting During The Holidays That Are Even Colder Than Frosty
Charles Dickens got it all wrong. It should be the Ghost of Christmas Past, the Ghost of Christmas Present, and the Ghost of Christmas "This Could Be Us, But You're Playing." There's just something about December that makes it prime time for haunting stories about ghosting during the holidays.
One of the greatest Christmas bops of all-time is about this. George Michael spills all the tea about how he got ghosted "last Christmas." Cue the upbeat synths — and a supercut of Michael looking salty that his crush has moved on to nuzzle red noses with someone else.
The winter holidays are typically seen as a time for togetherness and cheer, best shown through family-bonding and gift-giving. Still, a lot of people's inner Grinch leaps out when it comes to new relationships.
Maybe it's the powdered sugar, Champagne bubbles, and fairy lights that create a mood for fleeting winter romance. Or maybe it's the edgy velvet dresses, tinsel strands, and midnight thrills that create a perfect (snow)storm of slowly fading texts and social media orbiting.
Don't believe me? Pull on your puffer jacket and bundle up! Here are seven chilling ghosting stories. Some are about dating people who probably had a corncob pipe, a button nose, and two eyes made out of coal. Others are about the winter flings that were just downright wack.