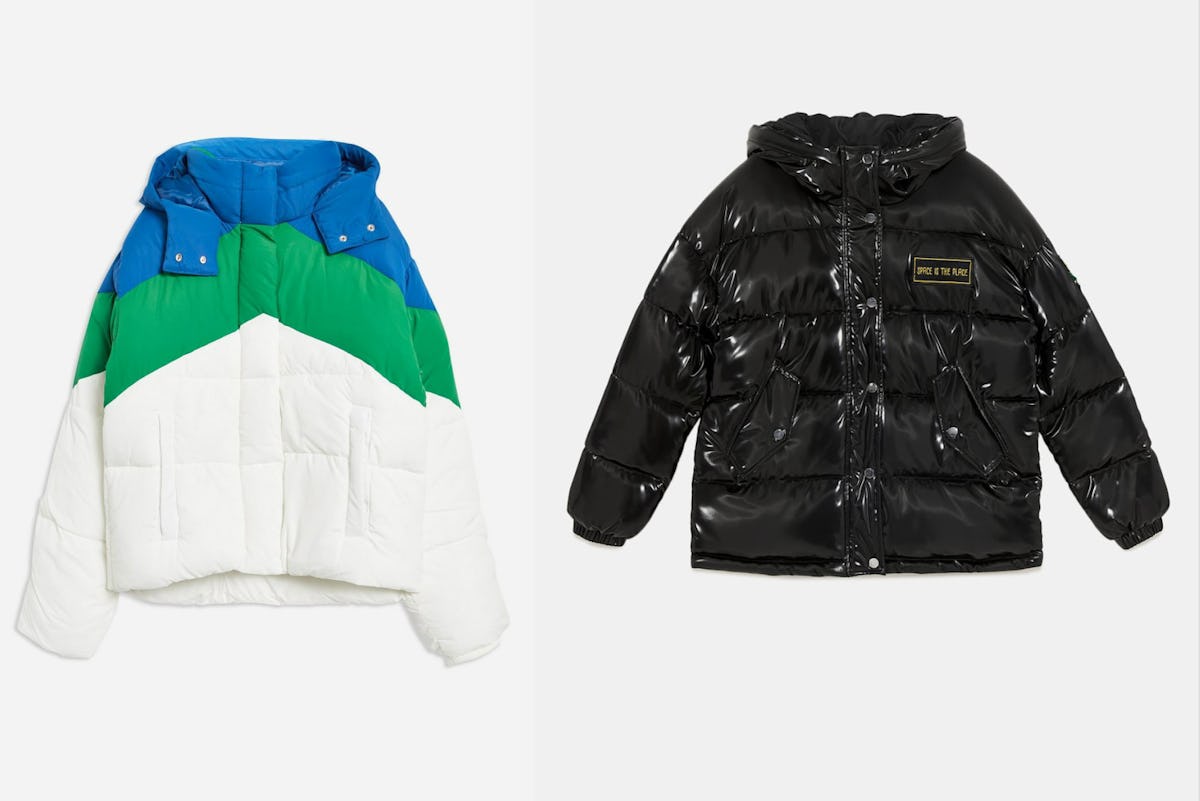 10 Cute Puffer Coats That Will Make — Not Break — Your Cold Weather Style
Topshop / Zara
It's no secret that super cold weather often kills your street style game. When temperatures are below freezing staying warm by any means trumps looking good any day. This season, you don't have to sacrifice style for comfort thanks to the cute puffer coats aplenty that are saturating the market at every price point. Whether you prefer your outwear to engulf you like a marshmallow taco or simply pad you in a structured layer of fluff, there's something out there for you.
If you're turning your nose up at puffer coats all together, don't. Last year the puffer walked the runways of pretty much all of the biggest designers and this year, they're back with a vengeance. Kate Spade, Pyer Moss, Phillip Lim, Balenciaga, Tory Burch —they all championed the Michelin Man-inspired stall within their fall 2018 collections. And beyond the runways, models with the like of Gigi Hadid, Paloma Elsesser, and a slew of others have decided not to pass on the puff.
Below, I rounded up 10 of the coolest coats that will keep you toastier than a marshmallow but won't break (and might even make) your cold weather style. From cropped to long, bright to black, printed to solid, they've got you covered. Literally.
Totally Yolked
This coat lets you be the sunshine that winter so desperately lacks. And thanks to its padded hood and high zip-up collar, it'll let you feel just as blazing as it, too.
Cross the Lines
Plaid isn't only reserved for long pea coats when it comes to outerwear. This puffer is super playful while still retaining that sense of British cool. It's an outfit maker for sure.
Fresh Powder
A cropped puffer coat? Why not, so long as warm high-waisted pants are also part of the outfit equation! Created in collaboration with Fila, this Urban Outfitters jacket is streetwear-inspired cool at its best.
Midnight Oil
Is this coat sick or what? It's murky sheen, oversized shape, and cool patch details render it a huge step up from the standard black puffer. If you're not into bright coats but still want to make a statement, this is your pick.
The Bigger, The Better
If you didn't grow up with a coat that had mittens attached to it via cords then you can't call yourself a true millennial. Relive your (obvious) sartorial glory days with this oversized teal coat.
Dad Jacket
Because dad sneakers are so last season.
That's a Wrap
Literally. This literally looks like a pita bread that your falafel might be wrapped in, and it rocks.
Pink Lady
Another bright and cheery option to liven up your winter wardrobe with.
The Eagle Has Landed
Astronaut cool at its best. And seeing as metallic outerwear is once again trending this year, your style will really shine.
So Fresh & So Clean
Colorful and unique, but with a clean and classic je ne sais quoi that screams chalet but at a lodge price.