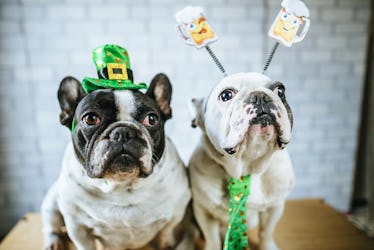 7 St. Patrick's Day Outfits For Your Pup, AKA The Cutest Leprechaun Ever
St. Patrick's Day will be here before you know it — and that means raiding your closet to find something green, because nobody ever really has FOMO on the possibility of getting pinched. But, what about your pup? Festivities aren't the same unless you can somehow tie that fur ball into fun themes that us humans get to celebrate. No one's judging if you want to find cute St. Patrick's Day outfits for your dog, because those are the same people stopping you on the street and asking to pet your adorably dressed fur baby.
Also, if there wasn't a need for canine St. Patrick's Day outfits, then why would they exist? I'll wait. Dogs look cute as hell when they get to join in on any holiday celebrations. Seriously, where would social media be without the Christmas sweaters, Halloween costumes, and birthday hat dog pics? Boring Town, that's where.
You're already going to be rocking your green, so don't leave your fur baby behind. Big or small, there's something for every dog to turn our St. Patrick's Day into their St. Puppy's Day. Your dog would melt so many hearts if they tried their luck in any of these adorable outfits.