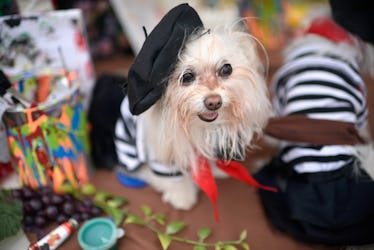 Twitter Is Loving Dress Up Your Pet Day & Has The Cutest Photos To Prove It
Chelsea Guglielmino/Getty Images Entertainment/Getty Images
Another day, another daily holiday. Luckily, the celebration taking place on Jan. 14 is "National Dress Up Your Pet Day," and it is filled with all the furry cuteness you can handle. If you don't have a pet, you can always to turn to these tweets about National Dress Up Your Pet Day and see for yourself why it just might be the cutest holiday yet.
Like most daily holidays, National Dress Up Your Pet Day is pretty self-explanatory. If you have a fur bestie, then you are supposed dress them up (as long as your pet is game, of course). Since it is 2018, there is the hope — especially from those leading a pet-less existence (like myself) — that there will be photos snapped of these adorable pups and cats as they transform into the cutest nation-wide costume party ever.
Luckily for everyone, pet owners are taking the time to document this adorable holiday, and the photos are making their way to Twitter. From the looks of it, people are letting their creativity take the lead on National Dress Up Your Pet Day, and the results are definitely worth their effort.
Whether you're joining in on the fun or just liking all the photos, Twitter is clearly the best place to be on National Dress Up Your Pet Day.
You might even mistake today as Halloween with how on-point some of these pet costumes are.
You can never go wrong with a Disney theme.
"TAIL as old as time!"
This pup is staying on-trend as Wonder Woman.
"Olive is my superhero every day."
A two-for-one on adorable pup costumes is always a good thing.
"Crawdog and St Patrick's Day Gus."
"Duncan is always ready for dressing up!"
This bewitching costume is purr-fect for this cat.
"I'll get you my pretty, and your little dog too..."
This doggo opted for a stylish red-and-white gingham and denim combo.
This fall pup pulls it off flawlessly, TBH.
While costumes (and a few chic AF pup ensembles) were a go-to for many participants of National Dress Up Your Pet Day, there were also a few winter staples that seemed quite popular. Considering it is January, many pet-owners took the cozy route and dressed up their dog and cat pals in some pretty sweet sweater ensembles.
Keeping warm in the winter is important to pups, too!
"Vegas mall dressed up in his fashionable homemade snood..."
You just can't go wrong with a pug wearing a cable-knit sweater.
"Alfredo the Wonder Pug" could warm up any chilly day.
If you can get past those puppy-dog eyes, you'll notice the trendy turtleneck.
These pups have me seriously considering upping my sweater game.
This hip feline is giving new meaning to the term "cat in the hat."
This cat is serving serious face and keeping warm all at once.
Great pup minds think (and keep their heads warm) alike.
I need to learn their secret to looking adorable while also beating the cold.
Now that you've gotten a good sampling of all the cuteness that is taking over Twitter on National Dress Up Your Pet Day, you might want to know who you have to thank for it.
According to the official Dress Up Your Pet Day website, the "holiday" was established on Jan. 14, 2009 by Colleen Paige. Paige is a celebrity pet lifestyle expert and animal behaviorist, and in her description of the holiday, she stresses the importance of humane pet accessories. She says that "animals should never have to suffer for the sake of fashion."
So, as long as your pup or cat is cool with the costume, then you should make time to celebrate the adorable holiday today. As for those of you without pets, you'll be able to see all the costumed pups and cats online. And hey, it might even inspire you to adopt (and dress up) a fur baby of your own.