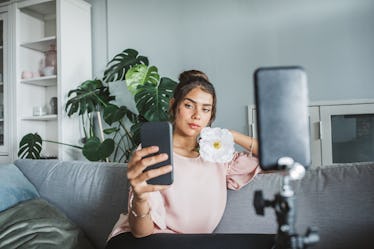 7 Spring Break Pics You Can Snap At Home To Freshen Up Your Feed
svetikd/E+/Getty Images
Your spring break at home won't be boring, because you're ready to get creative and freshen up your Insta feed. When the chillest week of the year comes around, you'll pull out your tripod and favorite props like sunglasses and flowers, and bring all of those poses to life for social media. Before you get started, check out these spring break picture ideas to take at home, and bring your content to the next level.
If you were traveling for spring break, you'd have no issues coming up with creative content. But, due to the ongoing coronavirus pandemic, you're sticking to spring break picture ideas that utilize items in your home as backdrops, props, and light sources. The Centers for Disease Control and Prevention (CDC) states in its safety guidelines that travel should be postponed in order to protect yourself and others from contracting and/or spreading the coronavirus. You'll not only adhere to these guidelines, but also make the most of your time at home by snapping some pretty cool pics for your feed.
Some snaps may be taken in your bathtub with your favorite drink, while others will transform your room into a sweet hotel and show off a breakfast in bed spread. These spring break picture ideas will certainly make you feel like you're traveling, but can be recreated right at home with your favorite props, poses, and even the people you live with.