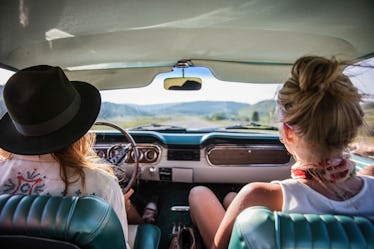 7 Sistermoon Road Trip Ideas That'll Inspire You To Cruise With The Windows Down
With the summer being prime vacation season, now is the best time of the year to take your "sistermoon" with your number one. If you're unfamiliar with a "sistermoon" trip, don't worry. Up until this week, I would have guessed the meaning of this was a ritual you needed to do with your girlfriends under a full moon, but it's actually an annual getaway for sisters to take together to celebrate their relationship. So, start planning a getaway now, and if you and your sis love hitting the road, you may want to consider some sistermoon road trip ideas.
Out of all the kinds of vacays there are to plan, I think road trips are the best. Not only are you constantly on the go to see new, cool destinations, but you're spending time in the car, singing to your favorite songs and making memories. When it's just you, your sis, and the open road, there is so much time to catch up on while venturing to the next pit stop. I also highly recommend creating a Spotify playlist of all your favorite songs you both loved to sing along to back in the day.
Now that you're set on getting behind the wheel, its time to decide on the destination. Consider any of these seven road trips that will not only give you great sights to see, but have you making memories you will both treasure forever.