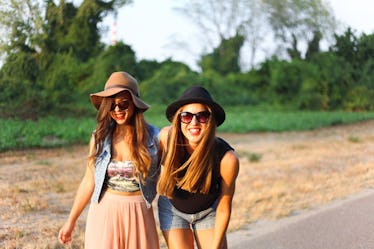 7 Unique Sistermoon Ideas To Plan With Your Number One Over The Next Long Weekend
As far as I'm concerned, two of the greatest things in life are long weekends and spending time with your sis. That additional day added onto the weekend is the perfect excuse to get out of town. It gives you more time to check some unique "sistermoon" ideas off of your bucket list. You may be wondering, what the heck is a sistermoon? Well, it wasn't until recently that I found out what it is as well, and no, it's not some cool looking moon in the sky you need to do a crystal ritual under. (Although, that does sound quite fun.) It's actually an annual getaway you take with your sis for some essential bonding time.
TBH, I really don't need an excuse to plan a cool trip with my sis. She's hands-down my favorite travel companion, and I would take her with me to every single place on my bucket list, but the idea of an upcoming long weekend (and the sweet concept of a sistermoon) just upped the ante. With the extra day, you really can do it all, and jam-pack your days with little excursions that are special to you two. With an upcoming long weekend on the horizon, you better start planning it out now with any of these seven ideas.