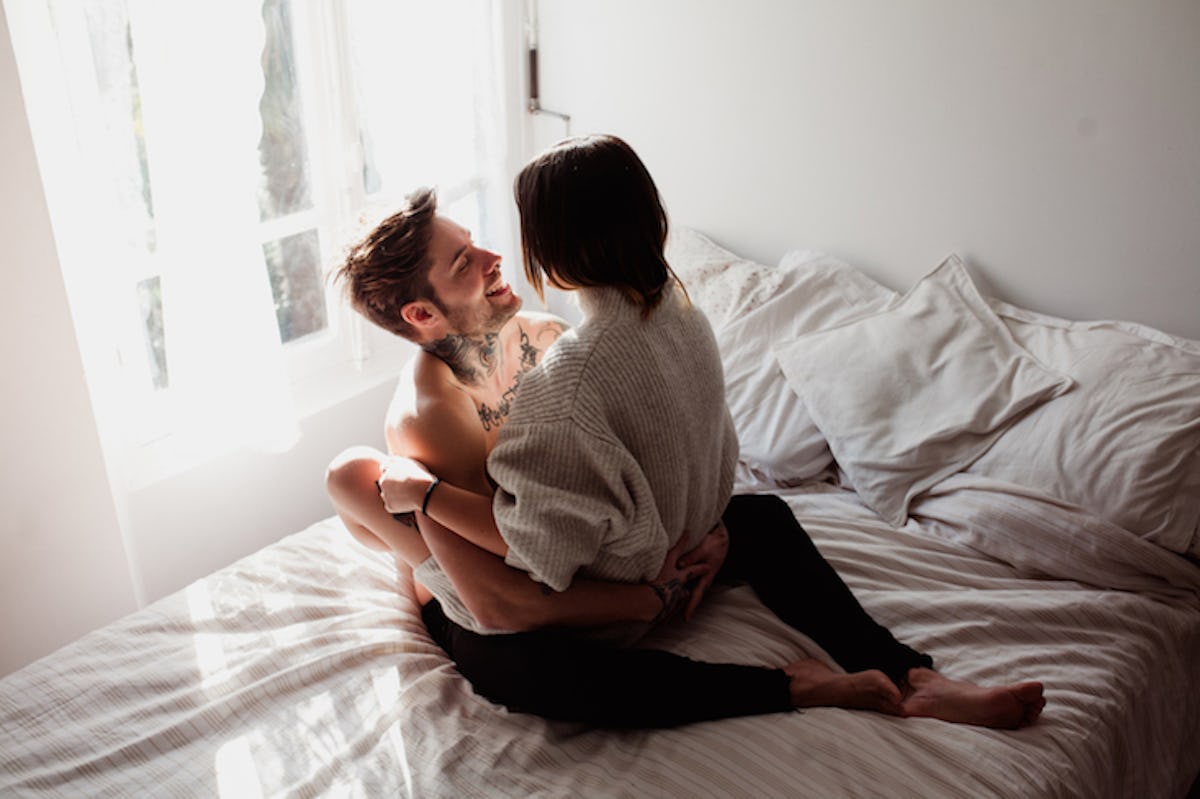 7 Sexy, Warm Pajamas That Are Perfect For Cuddling With Bae In The Winter
Cuffing season exists because your willingness to leave the house to do absolutely anything decreases exponentially during the winter months. TBH, you'd rather be lounging around in sexy and warm pajamas since now's the perfect time to Netflix and chill (or pizza and plow) with your new bae. Your desire to shack up right now isn't just because you're cold, either. Turns out, you are scientifically more likely to get into a relationship during the winter months because both men and women experience hormonal spikes at this time of year. In fact, relationship expert Jonathan Bennett recently told Elite Daily that testosterone levels for men actually peak during cuffing season, which makes total sense. So you're not the only one who'd rather have some one-on-one time under the blankets than brave the cold for a drink at the bar.
So whether you're planning on having a movie marathon with your partner or you're hoping to keep things hot in the bedroom this winter, PJs are the way to go.
Trust me, they've come a long way from when you were a kid. In fact, I'm willing to bet you could even turn your partner on in the right matching flannel set — that is, of course, if you happen to be looking for the Luke Danes to your Lorelai Gilmore.
It's not impossible to be sexy and warm. It just takes a little more effort. If you don't care to do it for your partner (let's be honest, they should be happy to see you regardless of what you're wearing), do it for yourself! Upgrading from worn-out, oversized sweaters to cute pajama sets is life-changing. Maybe you won't wake up looking like Beyoncé but who says you can't go to bed like that?It's true that when you look good, you feel good — even if you don't leave the house for five straight days. Dressing up your lazy-day look a little is likely to improve your overall mood and boost your confidence levels. Looking cute when bae comes over will just be a bonus.
I mean, this could be you.
If you don't know where to start, I've rounded up a few of my favorites that are sure to distract your partner from whatever made-for-TV movie you've decided on. Enjoy!
They won't be able to keep their hands off you.
I love that this set also sort of implies you might moonlight as a Victoria's Secret Angel — you know, it's glossy, it's pink, it low-key makes you look like a supermodel.
This will make them say, "Meow, meow, meow!"
The hood has fuzzy ears on it so it's basically like a built-in Snapchat filter.
This retro-inspired set is perfect to Netflix and chill in.
Pair this with your favorite robe for a cozy morning in.
Fact: Cut-outs are always sexy.
Plus, the bottoms are basically yoga pants, which are a definite turn-on.
This is what your grown-up PJ collection is missing.
Throw this on over your favorite PJ set for an effortlessly dainty look.
You'll probably want to wear this all day.
This glamorous and chic set will convince your partner that you have your sh*t together.
This pretty much says it all.
There's something about slouchy T-shirts that are irresistibly attractive on girls.
Before you resign yourself to the idea that your winter style is more Sesame Street than femme fatale, consider splurging on a few of these sexy options, instead. All that's left to do now is invite bae over and get cozy.
Check out the entire Gen Why series and other videos on Facebook and the Bustle app across Apple TV, Roku, and Amazon Fire TV.
Check out the "Best of Elite Daily" stream in the Bustle App for more stories just like this!