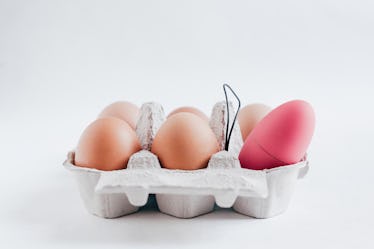 If It's Your First Time Buying A Sex Toy, These 7 Options Are Perfect For You
If you've never used a sex toy before, the sheer number of options available to you can be really intimidating. Maybe you've walked into a sex shop and been totally overwhelmed by all the merchandise. Or you may have seen giant dildos in R-rated movies or while watching porn. Those probably aren't the best thing to start off with, in case you were wondering. To help you choose the right products, I've compiled a list of seven sex toys for beginners.
The list below includes different objects for you to explore, ranging from a small bullet vibe to comfy wrist cuffs. Some of these toys are better to test out with a partner, while others can be used by you alone. If you're nervous at all, it's completely fine to try out toys on your own first.
When testing out sex toys, focus on what feels good for you. It doesn't matter if you're playing solo, trying something new in a committed relationship, or experimenting with a friend with benefits. Communicating openly with your sexual partner (or partners) about your needs in bed can only lead to better, more adventurous sex.
We only include products that have been independently selected by Elite Daily's editorial team. However, we may receive a portion of sales if you purchase a product through a link in this article.
1. Classic Rabbit Vibrator
For solo play, you can't go wrong with a classic rabbit vibrator. You're guaranteed to feel a ton of pleasure from the combination of clitoral and penetrative stimulation. Plus, with a rechargeable USB battery, you won't need to keep buying AAAs at the most inopportune times. Welcome to the 21st century. Oh, and did I mention there are 12 different speed variations? Masturbation is all about figuring out what you like and what feels good for you. Enjoy your rabbit alone at first, then consider taking what you've learned into the bedroom with your partner.
2. Simple Bullet Vibe
This discreet bullet vibrator is another great starter sex toy. You can increase and decrease the intensity of regular vibrations as well as patterned pulsing. This version also comes with a sleeve you can slip onto your or your partner's fingers for more controlled stimulation. Another rechargeable vibrator, this bullet is made of waterproof, easy to clean silicone.
3. Vibrating Cock Ring
When bringing sex toys into bed with you and your partner, a vibrating cock ring is the perfect introductory toy to experiment with. It works for both of you to intensify what is (hopefully) already pleasurable sex. After you turn on the vibrator, the ring stretches around your partner's penis. Make sure he's hard but not completely erect before sliding it on. The tightness of the ring should make him even harder and ensure that he takes longer to finish. You can use a cock ring in a number of different positions. Try starting out in missionary or cowgirl so the vibrating end of the ring can really stimulate your clit.
4. Satin Blindfold
A satin blindfold seems innocent enough, but the simple act of taking away your sight will make your other senses even more powerful. This comfy blindfold is super soft, so slip it on and let your partner explore your body with their hands, mouth, and more. Not knowing what's going to happen next will drive you wild with anticipation and desire.
5. Spanking Paddle
If you're into exploring beginner bondage, a spanking paddle is a versatile toy to add to your collection. It lets you and your partner explore what you both like. Start by having your partner slowly slide the paddle across your bottom. If you're into this gentle teasing, they can try a soft smack next. Then, a slightly harder spanking. Be vocal about what you like and don't like, and of course, know that you can tell them to stop at any time.
6. Feather Tickler
If you're more into sensation than spanking, a feather tickler is another beginner BDSM option. You and your partner can tease one another with the feathered end, as foreplay or during sex. This tickler is a little pricier than some of the more simple versions, but the satin rope handle and finger loop are worth a few extra dollars.
7. Soft Cuffs
BDSM can be intimidating, and if you're a beginner who wants to try restraints, wrist cuffs are a simpler and safer option than rope. When choosing your first pair of cuffs, you want to make sure they won't cause you any discomfort. These padded cuffs are soft and sturdy, without any harsh metal that could cut or bruise your wrists. With adjustable velcro straps and an optional clip, you have the option to keep your wrists apart or close together.
Explore your body by using any or all of these sex toys, either on your own or with a trusted partner. You won't know what you're into until you try. And chances are, no one's going to turn down an opportunity to have multiple orgasms.