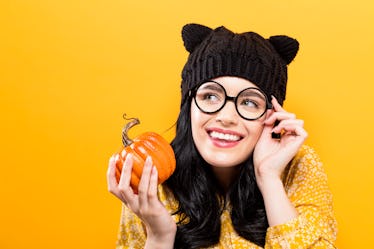 7 Mouthwatering Pumpkin Recipes For Thanksgiving That Are Anything But Pie
Thanksgiving aromas are pleasant reminders that not everything that is good for the soul can be held in our hands. Among these aromas, though, is the notorious poster child of fall (aka, the pumpkin), which can be transformed into just about anything. Playing around with a few pumpkin recipes for Thanksgiving will have your home smelling so amazing, and your guests will be begging for some more.
Pumpkin usually gets its maximum shine time once a year, so you might as well incorporate it in one of the most food-consuming holidays. I'm not just talking about pumpkin pie, either. Yes, it's absolutely amazing, but give pumpkin a little more credit and get creative with its delicious contents before it's too late.
Even if you aren't the head chef in charge, whipping something up with pumpkin is still an option. Hey, the main chef may even give you some major props for adding a festive flare of pumpkin galore to the holiday gathering. Think of the pumpkin as an untapped source of wanderlust that you need to explore for Thanksgiving this year. Need a little bit more inspiration? Witness how other people graced their tables with a luxurious dish derived from a beloved pumpkin.