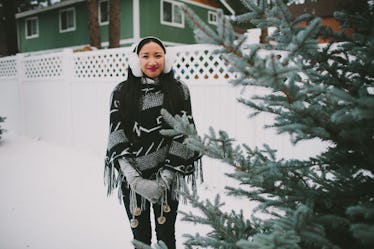 7 Promises To Make To Yourself This January That You'll Actually Stick To
The first month of the year can be described in one word: Refresh. After the chaos of the holidays and watching the ball drop on New Year's Eve, it just feels right to recharge and focus on the new. It feels right to clean up all the glitter and Polaroids on the floor, leftover from your party, and write down some resolutions — things that you want to do, change, or experience and soon. The second your pen leaves the notebook paper, though, you think to yourself, "Well, I hope I can stick to these!" Not everybody ditches their resolutions, including you. But, there are some promises to make to yourself this January that you'll definitely stick to. Challenge? Accepted.
Truth is, I like taking my goals and resolutions month by month. I find that, for me, it's a lot easier to break down my dreams into smaller steps and achieve a little at a time. Instead of writing down, "workout more this year," I try to be more specific and say, "go to at least three spin classes this month." Those kinds of goals feel much more attainable and practical — you know?
Now, everybody's different and you might find a system that works much better for you. You might love making long-term goals and seeing how they play out as the year goes on. But, these seven promises to make to yourself this January will keep you inspired and motivated to stick to your goals.