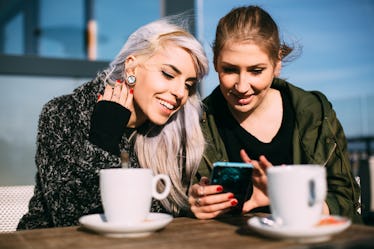 7 Cool Piercings To Get With Your Cousin, If She's Truly Your Soul Sister
Cousins are the greatest friends you could ever ask for. Yeah, I said it — and I mean it with all my heart. Your cuz has been by your side since day one, and you've been so inseparable ever since. You can't imagine a family gathering without your partner in crime, and she's always been your number one to spill all the tea to (Because let's be honest, she has the best advice and is never one to pass up some hot gossip). If your cousin is your best friend, you know exactly what I'm talking about. As a matter of fact, you're probably saying "same" as we speak. Your bond is so strong that you naturally had the coolest BFF bracelets as kids. The next thing on your bucket list might be piercings to get with your cousin.
Some people get matching tattoos, but you and your cousin may decide to opt for something with gold, silver, and diamonds instead. A new piercing is great for showcasing that not only do you share blood, but you and your cousin share something else together, and it's super sweet.
You're literally soul sisters, and this piercing could be a really fun thing to do together. Your new piercing can also be something subtle that only you know about, but whenever you do see it, a smile will instantly take over your face. So, if you and your cousin are thinking about taking that childhood BFF bracelet up a notch, here are seven matching piercings to get that'll give you so much inspo.