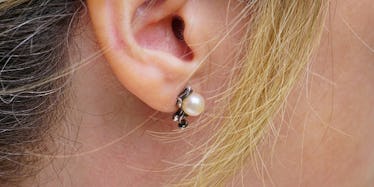 13 Cute, Unique Piercings To Get With Your Sister When You Crave A Change
Pixabay
If you have a sister of your own, you know there's a special bond between the two of you that's unlike any friendship you have.
When you're blessed with a great relationship with your sis, you both understand one another more than most people do, and can always be there for each other.
You most likely shared everything from Barbie dolls to clothes, secrets, and even ways of dealing with your parents.
Your sister also totally gets when you're stuck in a rut, and she helps you get through it. When you're in need of a change in your life, she's your go-to person to vent to.
I don't know about you, but when I'm dying to switch up my hair color, my sister always wants to join in on the fun.
So, if you have a special sisterhood bond like I do with my other half, a really great thing to do together is to consider matching piercings, of course.
Here are 13 ideas that are way too cute for words.
1. A heart loop tragus piercing to represent your everlasting love.
2. A small helix piercing that could be a secret just between you two if you always wear your hair down.
3. Upper lobe piercings, each representing a different sister.
4. A heart orbital piercing to always keep your sister's love close to you.
5. A big and little-sized double outer conch piercing to represent your big sis and little sis relationship.
6. Matching belly button rings, each wearing one another's birth stone.
7. Hidden under-the-tongue, representing all of the secrets you kept as kids together.
8. Matching dermal piercings to keep your sister close to your heart.
9. Hidden daith piercing on opposite ears, so they're next to each other when you stand side-by-side.
10. A very subtle helix piercing, because you don't have to be too flashy about much you love each other.
11. A small cat or dog to show the pet you shared some love.
12. An infinity sign, because your love is forever.
13. If dimples run in the family, emphasize them with matching dimple piercings.
Sisters don't let sisters get pierced alone, so when you both need a change, get a piercing that perfectly represents your sisterly bond.