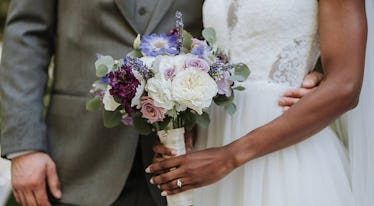 Here's How 7 People Who Waited For Marriage To Have Sex Feel About Their Decision, Now
Deciding when you're ready to have sex for the first time is a deeply personal decision. It should go without saying that there is no "right" or "wrong" time for two consenting people to do the deed. As with most things, both sides of the argument present points that can feel valid, depending on your perspective. For some people who waited for marriage to have sex, their religious views played a huge role in deciding to hold off.
As someone who grew up in a family that was generally religious but not very serious about it, any expectation that I would wait until marriage was definitely not something I ever considered. However, I did attend a religious school after my mom had a mid-life crisis-esque panic that made her think I would surely turn to a life of crime and sin without god in my life. (JK, sort of.) During my time there, I had countless conversations with teachers and various adults who frequently sang the praises of waiting to have sex.
While I knew that that was definitely not the right choice for me, there are a surprising amount of married couples who waited and didn't regret it, just as there are plenty that waited and wished they hadn't. There are also plenty of people whose decisions to wait for marriage had nothing to do with religion, but rather, they just wanted to wait for someone who sex felt right with. Religious or not, when you decide to have sex is no one's business but your own. Below, perspectives from people on reddit who held off on having sex, and how they feel about their decision now.