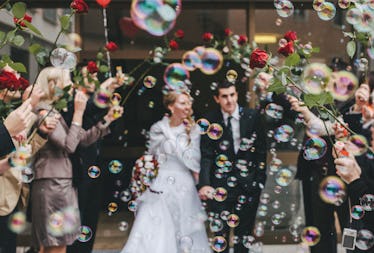 7 People Reveal The Lessons They Learned After Their First Marriages, & They're So Wise
Marriage is no joke ya'll. Seriously, making the decision to intertwine your life with someone else's for the long haul is pretty intense. Yet, no matter how much thought you put into it, there is bound to be a learning curve simply because there are some things you can't fully understand until you've experienced them. According to married folks on Reddit, there are tons of lessons they learned after their first marriages.
Even if you go into a commitment such as marriage thinking you have a pretty solid grasp of your relationship, chances are you are going to learn some new things about your partner and yourself as time goes on. While these enlightening experiences might not always feel positive in the moment, it's important to realize that every difficulty presents the opportunity for growth. IMO, the main purpose of any journey is ultimately to help us grow and evolve into better versions of ourselves. Many people consider marriage to be one of the most defining journeys of a person's life, and while it might not always work out for better or worse, there are definitely valuable takeaways to be gleaned. Here are some eye-opening lessons people learned from marriages that are super insightful.