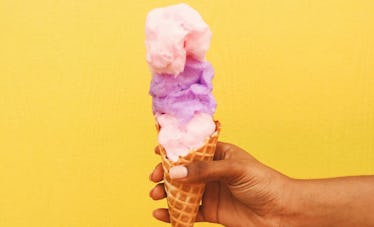 Here's Where To Score Free Ice Cream For National Ice Cream Day On July 21
It's that time of year again, everyone. Summer is in full swing, which means National Ice Cream Day is right around the corner. The sweet, sweet holiday — which falls on Sunday, July 21 — celebrates your favorite dessert with discounts that you won't want to miss. Better yet, some of of the National Ice Cream Day 2019 deals will help you score complimentary scoops in honor of the big day. Nothing's better than free ice cream in the midst of summer, so mark your calendars and save room for dessert.
As you could imagine, not all of the specials happening on July 21 offer free cones at no cost (that'd be a dream, though). Instead, some brands are offering BOGO deals that'll help you score a freebie after making a purchase, which is perfect if you're planning on bringing a friend along. Either way, free dessert will be totally accessible on National Ice Cream Day regardless of which deal you choose.
OK, let's get into it. The following ice cream deals feature free cones, milkshakes, ice pops, and more, so start thinking about which specials you're going to partake in on July 21. Heck, you can even try 'em all if you map out your National Ice Cream Day right.