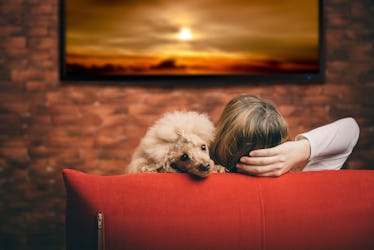 7 Movies To Watch On Netflix With Your Dog That Are Pawfect For A Snowy Day
Fur babies have this magical presence that makes any situation better, hands down. When you're sick, they're nestled by your side, and when you're having a bad day, they'll lick away the stress. If you happen to be snowed in one of these winter days, there are movies to watch on Netflix with your dog that'll give both of you all the feels. You want your dog to experience absolutely anything you can reward them with, and if that means an impromptu Netflix and chill session, they got it.
You don't have to worry about them talking throughout the movie or taking up too much space on the couch. If anything, their only mission is to get as close to you as possible and stay that way for as long as you allow them to. Movie watching with your dog is a time for bonding and simply enjoying each other's company.
Don't forget those intermittent bathroom breaks, though! Since you can't take your pup to the movie theater, they'll appreciate the idea that you're bringing that experience to them. Getting caught in that agonizing Netflix limbo of what to watch is no fun, so picking any of these flicks would be so pawfect for you and your pup to snuggle up on a snowy day.