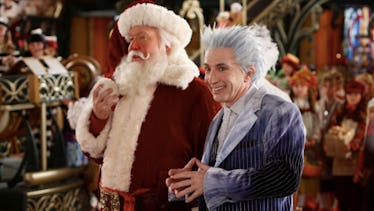 9 Feel-Good Movies On Netflix That Are Perfect For The Holiday Season
Disney
Well, folks, it's that time of year again: Halloween and Thanksgiving are officially over and the ~real~ holiday season is here to stuff your stockings with cheer. That's right, say goodbye to pumpkins and turkeys because it's time to dust off the mistletoe and drag out the yuletide logs for a month of caroling and other festive crap. Whether you celebrate the holidays or not, there is one thing we can all agree on: 'Tis the season for cheerful movies. That being said, there are a bunch of heartwarming movies on Netflix this month that are perfect for any holiday occasion, or for just curling up on the couch and relaxing by the fire with hot chocolate.
It's no surprise that Netflix has pulled out all the stops this year for Christmas-themed movies, featuring classics like all three of The Santa Claus movies and plenty more like them, but it's not all about the holidays. Indeed, there are tons of non-Christmas-themed heart-warmers available for streaming this month, too.
So, whether you're looking for a movie filled with Christmas cheer, or just a feel good romantic comedy for a cold winter night, you've come to the right place. Here are some of the most festive and most heartwarming movies on Netflix this month.
Hitch (2005)
This Will Smith/Eva Mendes-powered rom-com has absolutely nothing to do with Christmas, but it will definitely make you laugh and feel good this holiday season. It hits Netflix on December 1.
In Hitch, Will Smith plays a suave professional "date doctor" who helps less charming men score dates. Naturally, Hitch finds his tried and true methods for charming women don't always work when *shocker* he starts to fall for a gossip columnist played by Eva Mendes.
The Little Rascals (1994)
If you're looking for a classic, then look no further. The Little Rascals is the definition of "heartwarming." I mean, who could resist watching Alfalfa try to sweep Darla off her feet? The Little Rascals is available for streaming beginning December 1.
Trolls Holiday (2017)
In this Trolls-themed holiday special, the Queen of the Trolls, Poppy, finds out that the Bergens do not have holidays and decides to make it her mission, along with the help of her friends, Branch and the Snack Pack, to bring some seasonal cheer to the Bergens. Trolls Holiday is available beginning on December 6.
Disney's The Santa Clause (1994), The Santa Clause 2 (2002), and The Santa Clause 3: The Escape Clause (2006)
Talk about classic Christmas movies... it wouldn't be the holiday season if we didn't watch Scott Calvin's adventures as the Santa Claus. This trilogy is hitting Netflix on December 12, just in time for the final countdown to Christmas.
Christmas Inheritance (2017)
You can't talk about heartwarming without talking about at least one Netflix original movie, right? Someone better check on the Hallmark channel, because Christmas Inheritance is available for streaming on December 15.
In this sure-to-be-a-classic Christmas movie, Ellen Langford needs to deliver a special Christmas card to her dad's former partner in Snow Falls, the hometown she never knew, before she can inherit her dad's gift business. Of course, a snowstorm strands her at the town inn, though, and while she's there she finds romance and discovers the true gift of Christmas.
Miss Me This Christmas (2017)
If you want a true feel good Christmas gig, then Miss Me This Christmas is all for you. Miss Me This Christmas is a timeless rom-com based around one couple re-finding their love for one another. It is available beginning on December 19.
Trollhunters: New Years Eve Countdown 2018 (2017)
The final heartwarming movie to stream this month on Netflix isn't a Christmas movie, it's a New Years Eve movie! In Trollhunters: New years Eve Countdown 2018, a battle wages between two fictional worlds, but all fighting stops for ten seconds to toast the New Year. This animated Guillermo del Toro pic starts streaming on December 26.
There ya have it, folks, all of the best, most heartwarming flicks on Netflix for you to enjoy this holiday season. Time to get into your snuggliest pajamas and sink into the comfiest couch you can find.
Check out the entire Gen Why series and other videos on Facebook and the Bustle app across Apple TV, Roku, and Amazon Fire TV.