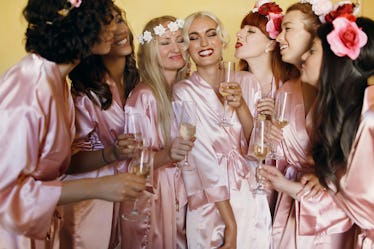 These Matching Bridesmaid Robes Will Give Your Wedding Day Snaps A Major Upgrade
Congratulations on your special day being right around the corner. The memories will be filled with so much love, many laughs, sweet treats, and probably a few happy tears. As excited as you are about everything that will go down on the big day, you naturally can't wait to get ready with your bridesmaids. They are your bride tribe, after all — and what better way to show off that you truly are the coolest girl tribe around than with matching bathrobes for bridesmaids?
You appreciate everything your bridesmaids have done leading up to your wedding day. They've already showered you with a bridal shower and bachelorette party, so it makes sense that you'd want to show how much you love them. Gifting each of them something like a beautiful robe to wear while you're all getting glammed up is always a good idea. Plus, you have to admit that you need that squad pic getting ready. It's a must.
These seven robes are really gorgeous, and they won't break the bank, either. Get something silky, soft, or embrace the florals. It's totally up to you. Just as long as you and your bridesmaids feel totally relaxed, stylish, and prepped to walk down the aisle, you're set.